Throwback to some of Pakistani fashion's global milestones

'Tis a bumpy ride to success in the mercurial world of Pakistani fashion.
Veteran designers will tell you stories of fashion shows that had to get cancelled due to political turmoil or a bomb blast that took place in another part of the city while fashion week was underway, throwing the audience into a panic.
There is always a chance that a risqué fashion show will get censored altogether and fashion presentations tend to be edited carefully, so that they don't hurt the sentiments of a demographic dominated by some very strong moral views.
It's a tricky obstacle course and yet, over the years, fashion has valiantly sidestepped barriers and emerged as a thriving, lucrative industry. Fashion weeks and couture shows have spurred on business and the occasional collection has pushed boundaries and set trends in motion.
And yes, these fashion forward moments may be few and far between but a trip down memory lane reveals that, long before lawn and bling smothered our senses, they did exist.
Moreover, every now and then, Pakistani fashion has celebrated some proud sartorial moments by making waves globally. This Independence Day, here are some of the times when Pakistani fashion really made the world sit up and take notice:
That time when Princess Diana wore Rizwan Beyg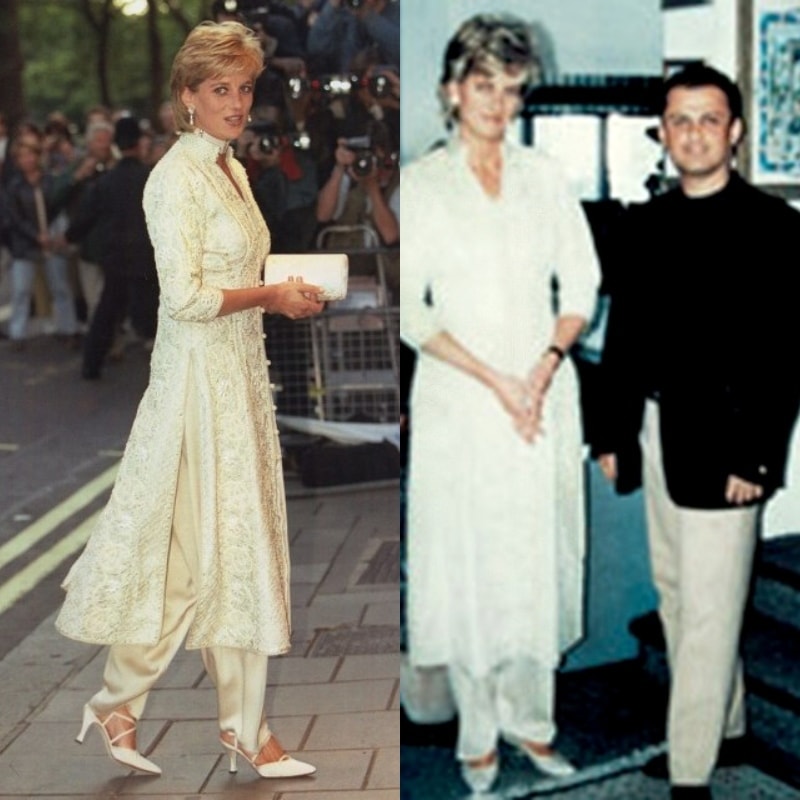 Dressing Princess Diana when she visited Pakistan back in 1996 has always remained one of designer Rizwan Beyg's fondest memories – but it is also one of Pakistani fashion's proudest moments. Y
ou may have read earlier about how the royal princess came to wear a hand-embroidered ivory achkan created by Rizwan but it's a story worth repeating here.
Rizwan was asked by Jemima Khan to create a design for a special guest who was flying in from abroad for a Shaukat Khanum fundraiser. She didn't reveal the guest's identity but Rizwan had his suspicions. He did some research on the princess' sartorial preferences and discovered that she had a penchant for pearl embroideries and shades of ivory.
The achkan was designed accordingly. When Diana visited Pakistan, Rizwan met her and when he asked her if she would take a photograph with him, she especially wore the clothes that he had created for her.
Rizwan's crowning moment, however, was when the Princess wore the outfit twice – for Shaukat Khanum Memorial Hospital fundraisers in both Lahore and London. In fact, on the day she signed the papers of her divorce with Prince Charles, Diana later attended the London fundraiser wearing Rizwan Beyg.
It was a day when London's paparazzi was buzzing and a multitude of her pictures floated out on to media. And while the princess may have been going through her personal turmoil at that time, she was dressed extremely well, in a design that was entirely made in Pakistan!
The royal visit to Pakistan
Many more local brands got a royal nod of approval during Prince William and Kate Middleton's tour through Pakistan last year.
The couples' team of stylists went on an online shopping spree and visited O'nitaa, a London-based multi-designer store stocking Pakistani brands, collating a select wardrobe for the Duke and Duchess.
The Duchess' wardrobe was particularly a Pakistani fashion bonanza: accessories by Zeen, a scarf by Bonanza Satrangi, tunics by Ideas Pret and Elan and an entire range from Maheen Khan, including dupattas, kurtas and shalwars. Her penchant for the dupatta totally won mass approval!
The Prince, meanwhile, opted for his signature shirts and chinos, except when he decided to go all out in a sherwani by designer Nauman Arfeen, in a very Pakistani shade of green.
The pictures floated out extensively on international media – an acknowledgement of Pakistani fashion and of the rich culture that exists within our land.
The designer trio that rocked Milan Fashion Week
Pakistani designers are no stranger to international runways and some of them have been regular participants at official fashion weeks in foreign locales.
Most recently, Sania Maskatiya has been expanding her repertoire at New York Fashion Week with two successive capsule lines that have been part of the collective showcase for emerging designers organized by the Council of Aspiring American Fashion Designers (CAAFD).
2009, however, was the year when three local designers showed complete collections at one of the world's leading fashion runways, the Milan Fashion Week.
Rizwan Beyg, Maheen Khan and Deepak Perwani were all part of the New Upcoming Designers (N-U-De) category and played to their strengths: Rizwan with a collection in ivory with pearl embellishments, Maheen with a 'Khyber Mail' line inspired by the Khyber and Deepak, with a vivacious mix of colours.
The shows won rave reviews from the international press and one wishes that the designers' Milan experience had not been a one-off. Unfortunately, the three designers – or any others – have not showcased at MFW again – although their successes from those long ago shows did help build their businesses further.
The models that rocked Milan Fashion Week
Pakistan made its mark in Milan yet again last year when Italian designer Stella Jean collaborated with the indigenous craftswoman of the Kalash valley and create an entire collection embellished with their handwork. Stella went the extra mile and also made the effort to incorporate two local models in her show at MFW: Mushk Kaleem and Alicia Khan.
It was a moment of victory for local craft, being featured on one of the world's most prestigious catwalks with two of Pakistan's own as part of the show. Later, Mushk and Alicia, along with jewellery designer Sherezad Rahimtoola and footballer Karishma Ali, who had helped with the collaboration, posed with the Pakistani flag!
The international marketplace
Seeing a familiar logo in a foreign land can trigger a sense of patriotic pride. A 'Khaadi' logo, for instance, in London's Westfield Mall, or a 'Faraz Manan' sign on Dubai's swanky Al Wasal road.
Making inroads into the international market, a number of Pakistani high-street retailers have branches scattered around the world: Khaadi, J., AlKaram, Gul Ahmed Ideas, Bareeze and Nishat Linen among them.
Designer collections, on the other hand, are stocked regularly at the Dubai contingent of multi-designer store Ensemble. However, standing out in a league of his own is Faraz Manan who is the only Pakistani designer to have a standalone store in one of Dubai's most 'it' areas.
The store, with its glossy interiors, is testament to the designer's considerable Middle Eastern clientele. It also sets Faraz apart from his peers – no other Pakistani designer has an international flagship retail presence and there are even only a handful of Indian designers with stores of their own in Dubai.
Finely worked Pakistani couture, evidently, can sell very well in the international marketplace. Now if only more local ateliers would be able to spread their wings similarly. It's about time that the world took more notice of Pakistan's diverse aesthetics.